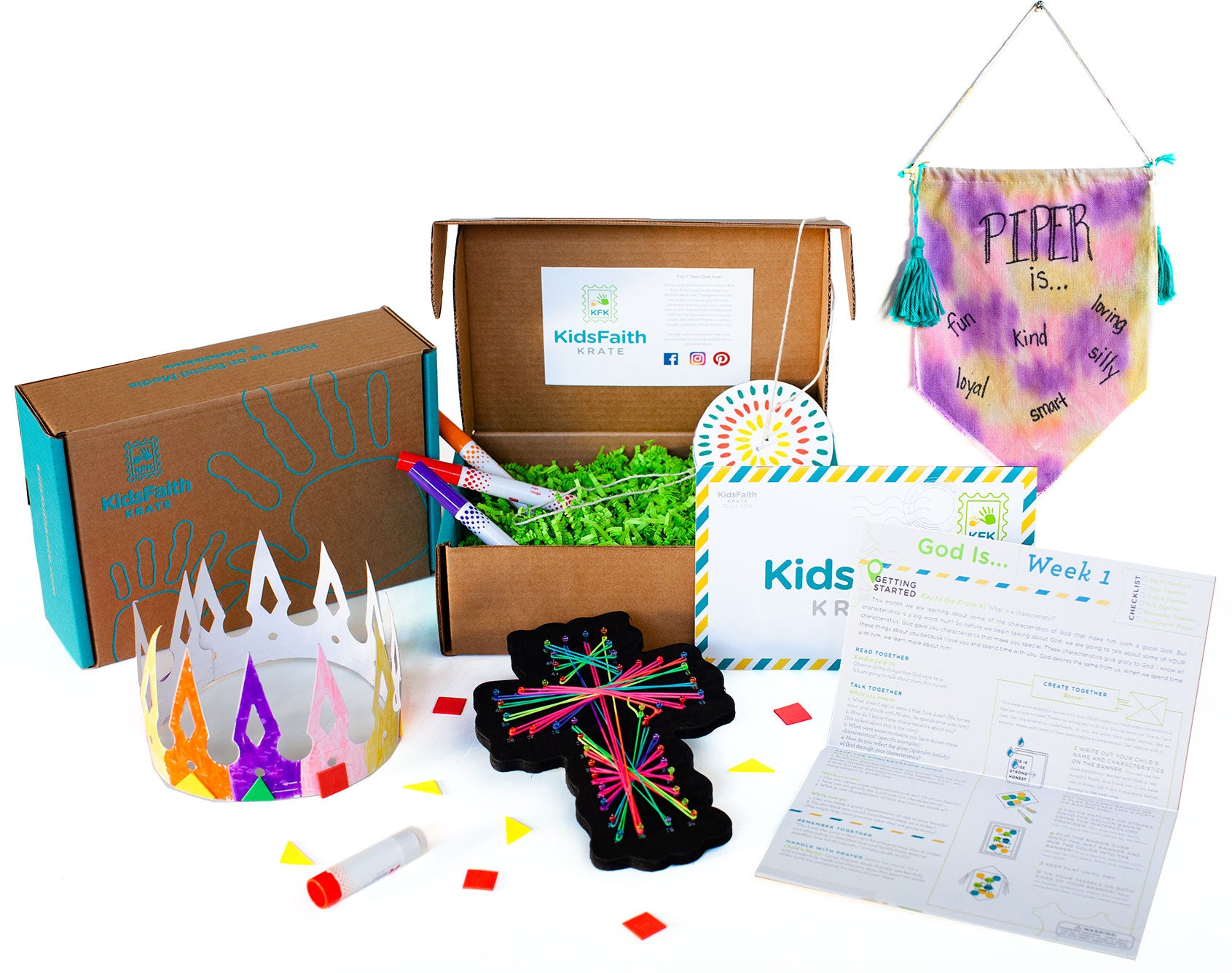 I promise you will thank me for these tips…
We had been waiting for our first box to show up at our front door since the moment we subscribed. Our first KFK arrived a couple days before the first of the month, and we were ecstatic to open it. Even though I know better, I made the mistake of opening it immediately. My three boys were on the heels of Christmas and ready to open a new present. Needless to say, it was a laughable and frustrating experience trying to redirect little hands and read the "Grown-up" section of Week 1 with three little boys pulling on my shirt and climbing on the table.
I commend those boys for their excitement, but I know there's a better way to maximize our experience together. I want this time to be special and formative, and not to start out with frustration from the very beginning. So here are 5 tips you can do in 5 minutes to help you have a great time with your kids and Kids Faith Krate.
Take 5 minutes to open Kids Faith Krate ALONE before the month starts.
After the kids are in bed, before they wake up, during naptime, or hiding in the kitchen pantry it doesn't really matter where or when. Just take a couple minutes to peek inside and know what is in this month's krate.
First, read the intro page.
This is the page that includes "Upacking the Krate" and "Keys to the Krate". These are the two central pieces that you will come back to each week of the month.
Glance at the Week 1 page.
This simple step will give you a heads up on what part of the Bible you will be talking about and which craft you'll be doing.
Set out Week 1 craft supplies.
This simple step will keep you from scrambling through the box with your kids. Pieces won't wander away, and the focus can be your time together and Jesus.
Pray
I'll be the first to admit that praying can sometimes be the first thing I leave out. Take a minute and pray for your kids. Pray for your own heart. The Bible reminds us that when we gather together Jesus is in our midst. Pray for your kids' hearts to be open and for their eyes to see Jesus. Pray. It probably isn't going to go perfectly, and everything might stand in your way, but you've made a commitment as a family to draw close to Jesus. Have faith that Jesus came all the way from Heaven to die and rise again to draw us all close to Him.
(And by the way, we here at Kids Faith Krate are praying for you.)
Have fun!
Dec 08, 2020

Category:

News
Comments: 0