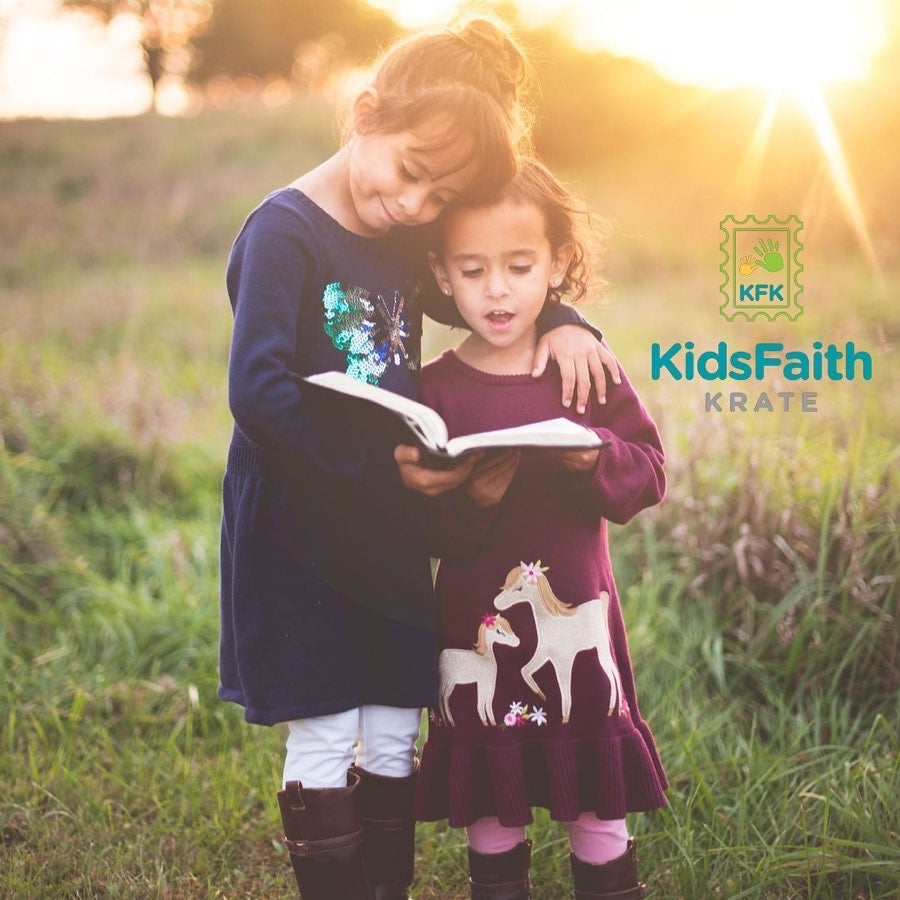 One of the goals of Kids Faith Krate is to help families read the Bible together. We want to see families intentionally sit down with their Bibles and have meaningful discussions about God's Word. We hope and pray that these important conversations have eternal significance in your lives. As our children become independent readers, we also want to see them begin to navigate and read the Bible on their own.
Here are some tips for teaching your child to read the Bible:
Modeling
When I think about my childhood, one of the most meaningful memories I have about my father is seeing him read the Bible. I remember getting up early in the morning as a child and teenager; my dad was always in the living room reading his Bible. I knew he was going to be there, and that brought me a lot of peace even as a kid, knowing that my dad was looking to someone greater than himself. That was my normal. I want my kids to experience this as their normal too. Kids are aware that the world is big and scary. I want my kids to know I am in need, and I go to God with my needs because he is greater than me. We can't ask our kids to read the Bible before we are modeling this behavior. It is never too late for you to start!
See me, now you too.
When you are reading the Bible, pick a verse and have your read along with you. Obviously, your child will probably not be able to be engaged with all your readings, but pull them into at least one thing you are reading. Have them point to the words you are saying as you read them out loud. Take a minute to tell them what the verse might mean. This "see me, now you too" is the next step to helping someone form a new habit. Pull your child into your Bible reading, and show them that they can do it too!
Table of Contents, Books of the Bible, Chapters, and Verse
As your children begin to read the Bible with you, show them the Table of Contents in the front of the Bible. You may even start to memorize the books of the Bible together. There are some fun, catchy songs to help them learn the Old Testament and New Testament books. Make time for you to take your child to purchase their first Bible. Teach them what chapters are and how to find verses inside of the chapter. When your family attends church or does their Krate, have your child find the verse on their own. This will build their confidence and excitement about God's Word!
Be consistent.
Like any habit you want to last, consistency is the key. Find a consistent time where you open your Bibles together. There are thirty-one chapters in Proverbs, read one verse from each chapter together for a month. Find a chapter you would like to memorize together in your Bibles, read it together every day this month. We open our Bibles together at the breakfast table. Others have more success at bedtime. Make sure Bibles are open during your Kids Faith Krate time. Start making a habit of taking your Bibles to church! Whatever works for your family, start small and be consistent.
Are you looking for some suggestions for your child's first Bible? Here are some of our favorites!
We hope these tips and Bible suggestions help you start your journey of reading the Bible together as a family! What helps your family read the Bible? We would love to hear your thoughts! Share this blog post and add what helps your family read the Bible together!
'
ALL ARTICLES
Jul 04, 2020

Category:

News
Comments: 0